TinT stands for TinT is not Tetris. It is a version of the classic Tetris game, written in Java. TinT supports two-player duels over a TCP/IP connection and also provides a version for cell phones.
Why yet another Tetris clone? A valid question, given that there are hundreds of different Tetris versions to be found on the internet, many of them cross-platform games, and also many of them free. The answer, however, is simple: Ever since I sold my Gameboy, I have not been able to find a version of Tetris that comes close to the Gameboy implementation. That version combined the classic Tetris game with a number of minor new features (a way to partly drop a tile, the "B mode" where the field would be filled with random blocks before starting, and of course the two player duel mode) and, most importantly, outstanding playability. Every version I have found so far has either lacked good controls, a good two player mode, or came with custom "special tiles" in addition to the seven standard Tetris tiles.
Also, there are only a few free cell phone implementations of the game that I am aware of, and to my knowledge none of them feature a two player mode. Mind you, neither does my version for now (thanks to Sony Ericsson for providing my phone with both a Java VM and a bluetooth module, but no way to access the bluetooth port from Java programs), but I do hope to add it someday - when I get a phone that allows me to do so.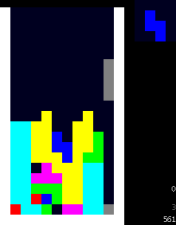 Clicking on the image will start the TinT applet.
Features:
Written in Java - runs on all platforms supporting Java. Available as a standalone application and as an applet (see below) for playing directly in your web browser window.
Classic Tetris - no special rules or fancy additional tiles. TinT pretty much mimics the Gameboy version of Tetris.
Networked two player duel mode - Play against a friend through the internet. Clear two or more lines at once to send your opponent additional lines. When your opponent's field is full, you win.
Cell phone version - play TinT anywhere, on your Java-enabled cell phone. (The current version's cell phone support is still buggy and limited)
State / Todo:
TinT is currently in an early Beta stage. As such, there are still many things to work on, and some features may not yet be fully functional.
Add a logo, beautify menus & improve menu usability.
Store highscores.
Beautify game. Skinnable tilesets?
Add music and sound effects.
Fix & beautify cell phone version.
Add bluetooth support to cell phone version.
Requirements:
Standard version:
Cell phone version:
A cell phone with J2ME support and WAP access or a link to your PC (infrared, bluetooth or data cable) to install TinT.
Play TinT:
To play TinT as an applet inside your web browser, click here.
If you have Java Web Start installed, you can run TinT by simply clicking here.
Otherwise, download the TinT jar archive from the download page (see below). Either double-click on the tint.jar file you downloaded, which should start TinT on most systems. Alternatively, open a command line shell, go to the directory containing tint.jar, and enter the following line:
java -jar tint.jar
Download:
Please refer to the download page to find downloads for TinT.